5 Steps To Establish and Build Your Business Credit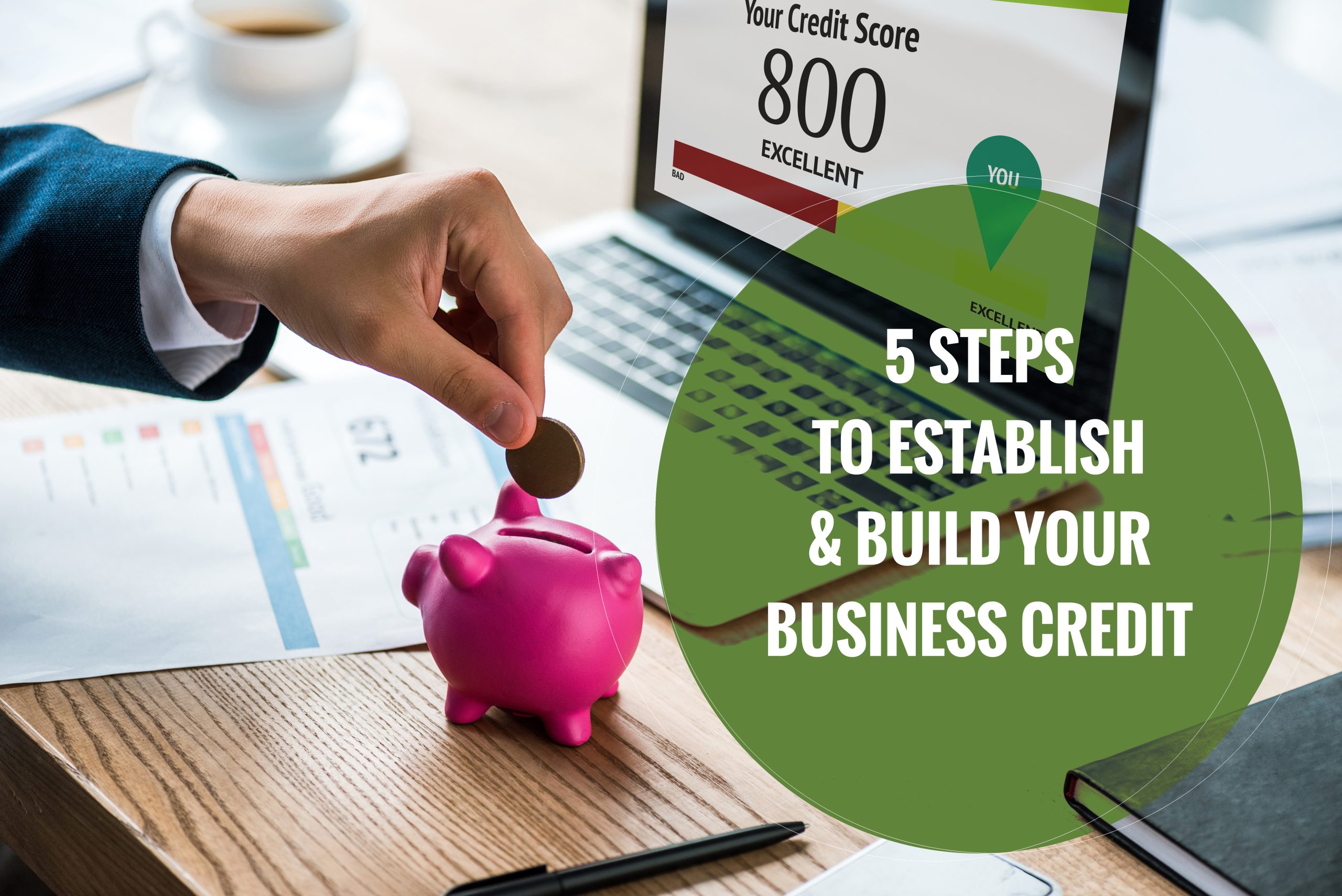 5 Steps To Establish and Build Your Business Credit
A growing business always needs an injection of capital now and then, and since cash is not always readily available on short notice, it helps to have good business credit to rely on. Business expansion or handling of a corporate emergency can all be handled easily with a quick credit loan. GoKapital has helped many business owners who have found themselves in such situations.
Business credit is not the same as personal credit because it is not affected by your own financial status but rather that of your business as a separate entity. The only connection between you and your business credit is through your Tax ID number or Employer Identification Number (EIN). This link is simply for tax purposes so when applying for a loan, a business and its owner are regarded as separate entities.
What Is a Business Line of Credit?
A business line of credit is a loan in which the bank or private lender, and you, the borrower, have an agreement in which you are extended a sum of money, from which you can withdraw varying amounts, at your discretion, as long as you do not exceed the maximum.
You will be able to withdraw from these funds at any time within the stipulated period for as long as you can service the loan repayments on time. This type of loan is usually revolving, meaning that you can borrow and pay back and borrow again in a revolving manner.
The underlying agreement is that the funds be used exclusively for business purposes in the form of expansion, purchase of assets or equipment, marketing, payment of salaries, and other business activities.
5 Steps to Establishing Business Credit
1. Prepare The Groundwork
Make sure that all aspects of your business are in order and appear as professional as possible. This includes any and all measures required to make your business a legitimate entity and therefore qualified to receive business credit. Take the time to set up business contacts, addresses, and emails, and make sure these are used consistently for all business activities.
2. Incorporate Your Business
This is one of the key elements to consider when preparing a business credit application. When you incorporate your business, you effectively separate your business organization from you, the owner, and from any other partnerships linked to your business. This means that when your business is being vetted for credit purposes, no other credit histories apart from those of your business will be considered.
3. Open a Business Banking Account
Using a reputable banking institute, open a business account in the legal name of the business. From this point onwards, ensure that all transactions, deals, or business-related payments, are conducted through this bank account. This helps consolidate your business activities and makes credit evaluation easier.
4. Open a Business Credit Card
A great way to improve your business's credit rating is to open a credit card through one of the big commercial credit card agencies. This card should be used very wisely without over-extending as this will be detrimental to your efforts of getting a good credit score. You can open more than one business card which will benefit your business in terms of liquidity when funds are needed.
5. Make Your Payments On Time
We cannot emphasize enough the importance of keeping your credit history clean by making your payments on time. This is the first thing that will be looked at, and missing your payments by even a few days will harm your credit score. Most lenders opt for debt collection services that are tailored to their business needs. This is actually beneficial to you in terms of getting payment reminders. If you find yourself with a bit of extra cash, an early payment now and again will definitely improve your business credit rating.
How To Get a Line of Credit for Your Business
Traditional banking institutes have extensive paperwork to fill out when you apply for a line of credit. Furthermore, they have such requirements as steady cash flow and a great credit score before they can consider your application.
GoKapital, on the other hand, is quite flexible when it comes to the application process and requirements as shown below:
Requirements
Time in business – Two years

Revenue – $20,000 per month

Bank statements – Four months duration

Overdraft – less than five days

Credit score – 550
Application Process
Fill out the easy online application

A quick review of business revenue

Authentication of documents

Approval of line of credit

Disbursement of funds into your bank account
Unsecured vs. Secured Lines of Credit
You should bear in mind that there are two types of lines of credit, namely, secured line of credit and unsecured line of credit. When it comes to quicker and easier approval, the better option is an unsecured line of credit, which has no collateral requirements.
A secured line of credit is generally a bit more complex to get, requires collateral, and approval may take time. However, the advantage is that you will be able to qualify for a larger amount of money. This is generally for larger businesses as most small businesses still would rather apply for an unsecured line of credit.
Small Business Line of Credit vs. a Term Loan
Understanding the difference between a line of credit and a loan is very important. With a loan, you will get a lump sum of money deposited into your account with the agreement that you will pay back the loan before a stipulated date and include an agreed-upon interest rate.
A line of credit, on the other hand, allows you to withdraw whatever amount you need at a different time as needed, as long as this is less than the maximum amount of the credit extension. If the payment is revolving then regular payments can ensure the line of credit goes on indefinitely.
Benefits of Good Business Credit
Establishing and maintaining good business credit will have a lot of benefits for your business, such as:
Easier to qualify for a business loan

You can negotiate better terms of the loan

Protects your personal finances

You receive better deals from suppliers

Easy access to cash for business use
The Bottom Line
At GoKapital, your business will be in good hands, and obtaining a line of credit at good terms will be made quick and easy. All you need to do is apply online, receive your offer, and accept your loan; it's as easy as that. You don't have to go through a lengthy process with no guarantee of success.
No matter the size of your business, you can receive a free evaluation, and experienced loan officers will assist you in selecting and obtaining the right line of business for you.