Understanding and Qualifying for Medical Practice Loans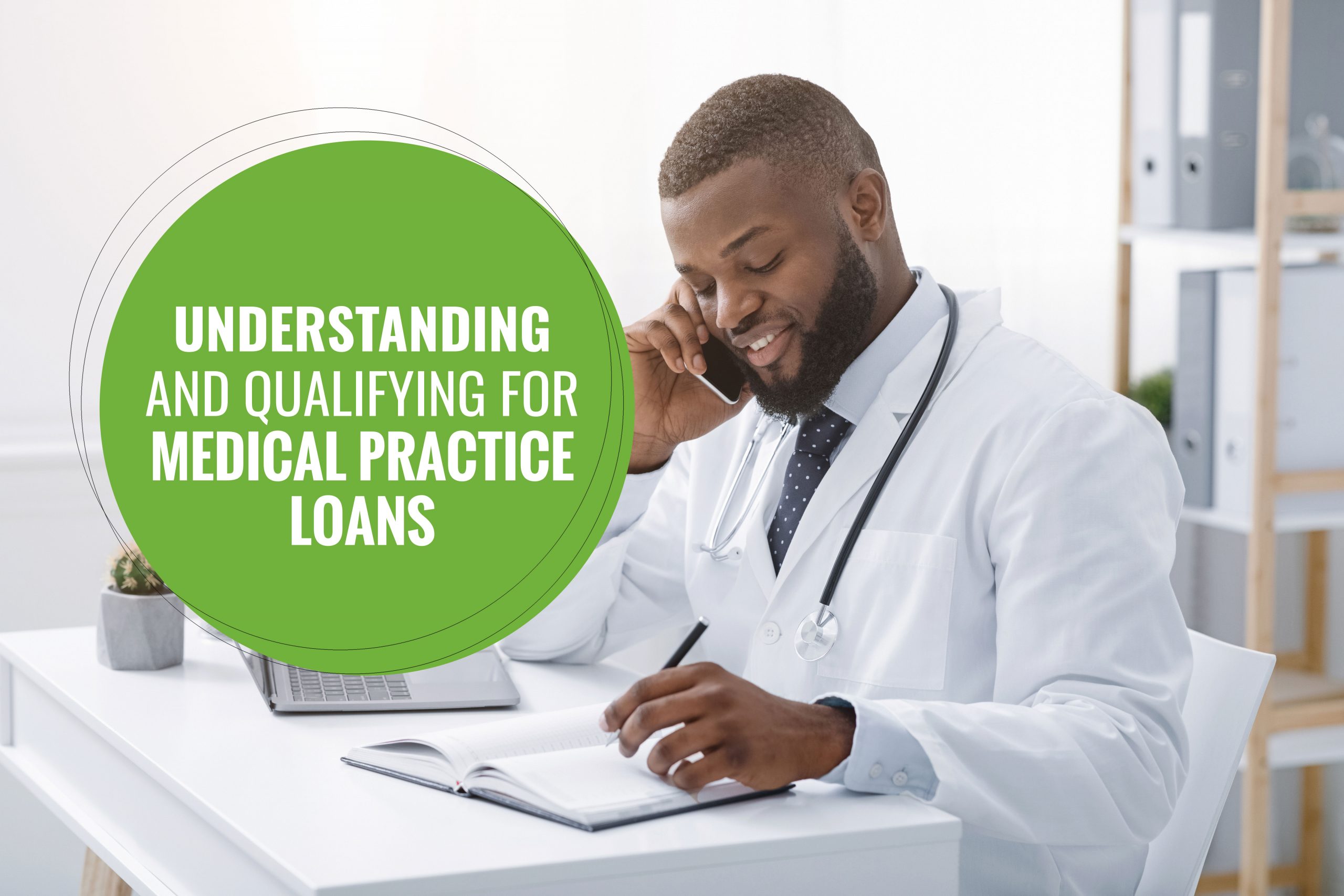 Understanding and Qualifying for Medical Practice Loans
What are Medical Practice Loans
Starting a business can be exciting, scary, and expensive. However, you can focus on ensuring your business is good on the financial side with a medical practice loan. How? With medical practice loans, you can apply to receive a lump sum of money that would go towards your business. Then, to pay it back, you and the lender would determine your terms (period for repayment) and the interest rate.
Why Would You Need Medical Practice Loans?
From general practitioners to specialized doctors, the professional can use medical practice loans to ensure they have the proper inventory, machinery, permits, licenses, etc.
Things that a medical practice loan can cover include:
Suppose you have decided to go into business on your own. In that case, you are going to make sure you have the initial capital required to get your practice off the ground. Startup costs include buying office supplies such as desks, chairs, lamps, and monitors.
These are typical expenses usually associated with starting a business. If you do not have the initial capital required to operate your business, this can be pretty stressful. However, it helps ease the burden of knowing how to afford the basic office necessities with a loan.
Medical practitioners who don't want to start a business from scratch can invest in an existing business. Sometimes, other professionals sell their existing business because they are either retiring or are moving on.
Some loans can be obtained that allow a doctor to purchase an existing practice for their own use. Depending on the business's success being purchased, its reputation and clientele can dictate the value it. These are just some of the factors that can dictate the value of the business. The more successful a company you plan to purchase, the more it is going to cost.
Medical Equipment and Supplies
Depending on what kind of practice you have, equipment is going to cost you. Some companies offer programs where equipment can be leased, while others require them to be purchased upfront.
Medical equipment and supplies, especially if you are starting a business, are essential. X-ray machines, stethoscopes, gauzes, bandages, robes, the list goes on when it comes to supplies for a medical practice.
Marketing is vital for new practices, especially those that are niche-specific. This can include buying business cards, flyers, advertisements on Facebook, and more. For any business to succeed, there has to be some level of marketing.
Types of Medical Practice Loans
Medical professionals looking at medical practice financing have an array of options. Here are four types of medical practice loans practitioners can apply for:
Traditional Medical Practice Loans
This particular loan is specifically designed for those in the medical or healthcare field. Loans like these can be acquired through GoKapital, which offers loans to startup businesses both in the medical field and not.
While a general loan focuses only on the amount, a medical practice loan is designed to consider the needs and expenses of the practitioner. This can be an asset as sometimes we overlook things we don't need for our business. As well, medical practice loans are much higher than the average business loan.
Short-term Business Loans
A short-term business loan is often a lump sum used towards equipment, materials, permits, etc. Term loans typically are for a set period, usually less than a year; however, some lenders can arrange for a more extended repayment period.
Depending on the lender, their interest rates may vary based on the individual or business's risk and credit score.
For medical practitioners needing a bit of extra capital to help their business, a short-term loan is a great option. This particular loan allows for set repayments and low-interest rates, meaning that once it's been repaid, you can either get another loan or not.
X-rays, MRIs, CT scans are just a few types of medical equipment that can cost upwards of a million dollars. Unfortunately, not everyone has a million dollars to spend. Equipment loans are designed specifically for a practitioner to purchase large and expensive medical equipment.
Medical Practice Acquisition Loans
Suppose you are a doctor who is looking to start or purchase their own practice, similar to how there are loans specific to medical equipment. In that case, there are loans for medical professionals looking to purchase existing and established medical practices.
Getting Financing For Your Business
When it comes to getting a medical practice loan, make sure you have done the following:
Checked your credit score to make sure you are eligible for the best kind of interest rate. The better your score, the better your rates and the higher the amount of a loan.

Have a business plan prepared. This helps your lender understand where you plan to allocate the loan.

Financial records and reports. Bring a history of your practice, or if you have not had a practice, bring all financial documents. This can help the lender determine your eligibility but also the amount to be loaned out.

Possibly collateral or equity. When you take on a loan, the lender may inquire to see if you have anything you want to put up as collateral. This is often done to show that you are not only able to repay the loan but that you are also serious.
Different loans are going to have different requirements. So depending on your loan, you may need more or less information.
GoKapital for Your Financing Needs
At GoKapital, medical practitioners can find an array of options when it comes to medical practice financing. Our trusted support staff are able to provide all the necessary information and requirements needed to ensure you secure the loan for your business.
With GoKapital, our loans range from secured to unsecured, short and long-term loans as well. Our knowledgeable loan staff can provide potential recipients with the necessary steps and options of loans they qualify for. As a result, GoKapital can ensure you not only receive the loan you need for your business but that you have the best experience as well.