GoKapital CEO Interview with Voyage MIA Miami Magazine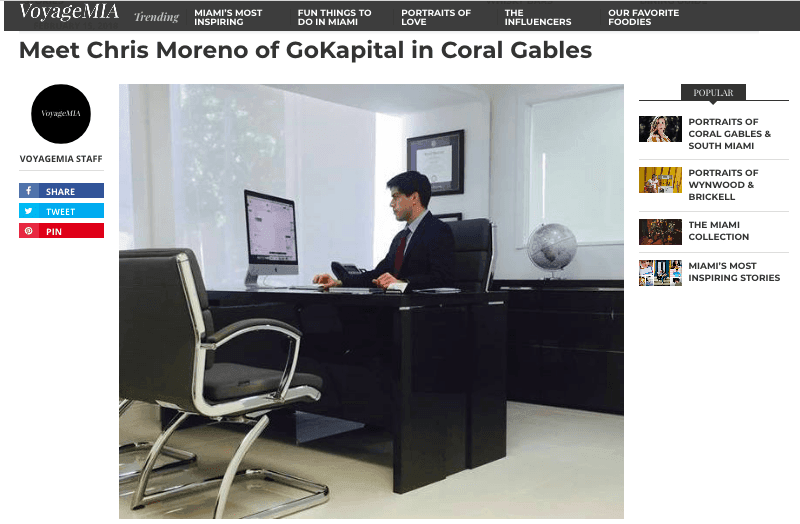 Chris Moreno, CEO of GoKapital, Inc., was recently interviewed by Voyage MIA magazine.
Voyage MIA Magazine specializes in showcasing  South Florida's most ambitious people, inspiring stories, entrepreneurs, businesses, and organizations to inform readers of ongoing progress in the diverse South Florida community.
In the interview, Chris shares the story behind the formation of GoKapital and explains the company's beginnings and current business loan and real estate financing services.
He also gives some valuable advice on how owners and investors can overcome the never-ending challenges of running a successful business.
GoKapital values its simple application measure with fast turnaround times. We ordinarily give endorsements inside 24 hours and prompt customers on which financing program is best for their requirements. Besides, credit documentation is negligible, with reserves gave in as quick as 1 business day. You may apply for a business or land advance at www.GoKapital.com throug hour safe online application, in our office, or with one of our numerous business specialists all through the nation.
Succesful business people are inalienably risk-takers and issue solvers and will be less debilitated when they are enthusiastic about what they do. It's particularly essential to consistently be making a move, being industrious despite misfortune, and keeping up the solid concentration and commitment important to transform a thought into the real world.