Can You Get a Small Business Loan for Real Estate? How to Tell If You Qualify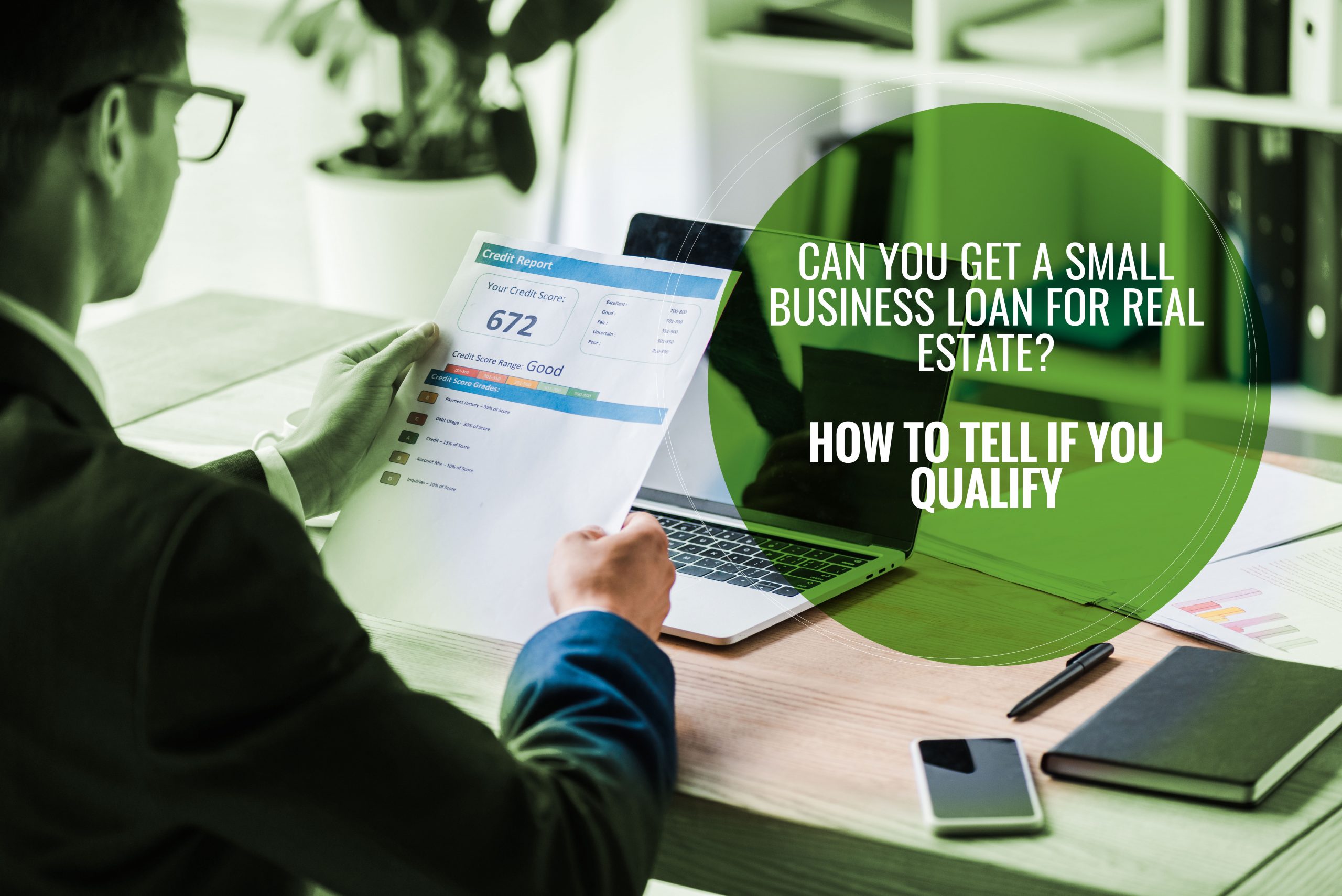 Can You Get a Small Business Loan for Real Estate? How to Tell If You Qualify
Buying real estate isn't just an excellent investment for a small business, but it can also provide a more cost-effective, permanent residence for your business operation. If you are wondering: "Can you get a small business loan for real estate," then the short answer is yes, you can.
You may be eligible for a small business loan to cover your real estate costs if your business requires a new venue, more space, or funding to buy a property that you have leased. Here is everything you need to know about small business loans for buying real estate.
Where to Get a Small Business Loan From
Commercial property loans are typically used to fund the acquisition or renovation of commercial real estate. Lenders typically require that the property be owner-occupied, which means that your company must utilize at least 51 percent of the space.
At this point, you may be thinking: "How can I get a small business loan to purchase real estate?" The good news is that there are several lenders you can approach for a small business loan.
Banks
Most banks offer this service. Generally, the maximum amount a bank awards a small business for real estate is $1 million. If you are an existing customer of the bank, you may be eligible for discounts on your loan, and banks often offer reasonable interest rates compared to other lenders.
However, they conduct extensive background checks and often require a great deal of paperwork, so keep this in mind when applying for a loan with a bank.
SBA 504 Loans
The Small Business Association, or SBA, created these loans, which businesses can use to buy a property or long-term machinery needed to run a business.
There are two loans available. The first is from a bank for a maximum of 50 percent of the loan, and another from a Certified Development Company for a maximum of 40 percent of the loan. Business owners are required to put down at least 10 percent of the value of the loan.
SBA 7(a) Loans
Another option is the SBA's flagship loan program that allows small business owners to borrow a maximum of $5 million via a connected lender. These business loans may be used to develop new properties, renovate existing properties, and buy land or property. Rates are calculated using the prime rate.
Commercial Lenders
Various non-bank financing organizations provide small business loans for real estate. However, these commercial loan rates are typically higher than bank rates. Nevertheless, if you need a loan quickly, this can be a suitable option.
Conduit Lenders
Business mortgages grouped with other forms of business loans and sold to investors on secondary markets are known as conduit loans. These lenders often lend between $1 million and $3 million, with maturities ranging from five to 10 years.
Repayment is usually carried out over a longer period to keep installments low, but you are required to pay off the balance in a single massive balloon payment at the end of the term.
Hard Money Lenders
Hard money loans are paid off in a shorter period, and the property's worth secures them. They are issued by private firms that need a larger down payment.
Factors That Can Keep You from Getting a Small Business Loan
Typically, a business and business owner must meet three types of requirements before receiving a loan for real estate. They are the building's characteristics, the business's financial status, and the business owner's personal financial status. If these three aspects are not in order, your business may not qualify for a small business loan.
The Building's Characteristics
When a property is financed, it essentially acts as collateral. This means that the lender attaches a lien to the property, which means that if you fail to make payments on your loan, the lender can seize the property.
The collateral for the loan is the property being financed, and the lender adds a lien to the property that authorizes seizure if you don't repay on time. Your small business must utilize at least 51 percent of the property to qualify for a commercial property loan on it.
Alternatively, you can apply for a property investment loan designed specifically for rental real estate.
The Business's Financial Status
Small business real estate loans are generally scrutinized closely since small enterprises are seen as risky because so many fail. Lenders examine the financial status of small businesses very critically to ensure that these companies generate enough cash flow to pay off the loan.
The business company's debt service coverage ratio, which is described as a business's yearly net operating income or NOI, divided by its total yearly debt service, is often calculated by lenders and used to measure the business's success. 1.25 is the minimum NOI ratio that can win you a small business loan for real estate.
Lenders also look at the company's credit score to determine its eligibility for a loan. They check to see that the business can afford the terms that accompany the loan, considering the interest rate, down payment, and payback time requirements.
The SBA 7(a) loan, the government agency's flagship loan system, needs a minimum credit score of 155. However, many exceptions enable small firms to acquire small business loans with lower credit scores.
The Business Owner's Personal Financial Status
Small businesses are typically run by an entrepreneur or a partnership. Lenders look at the personal credit score and credit score history of all the business owners to determine if they have had any previous financial issues.
These include tax liens, defaults, court judgments, foreclosures, and so on. A bad personal credit score can hurt your business's chances of getting a small business loan.
Final Thoughts
Several lenders offer small businesses the opportunity to get a small business loan for their real estate needs. Obtaining a real estate loan can help you as a business owner to stay on top of your finances while assuring you that you are working toward the goal of attaining one of your business's greatest assets – a property.
If you are looking for a small business loan, GoKapital is here to help. Contact us today to help you fund your real estate transaction through our lending services.